Winnipeg Transit and the people at the U of M are not innovators. If they were, students would not be currently deciding if the first U-Pass — universal transit pass — contract with Winnipeg Transit should be renewed. Contrast this situation with the innovators at Queen's University, who had a universal transit pass in 1973.
Fortunately, though, 20 years after Winnipeg Transit last declared that a U-Pass was unfeasible, the U of M and University of Winnipeg were finally able to reach a deal in 2016, and the U-Pass and affordable transit fare for university students became a reality.
Now, after four years of students at the U of M having no longer enjoyed the monthly necessity of enduring long lines to purchase a post-secondary pass, we are at a crossroads. Will the same luxury be afforded to ourselves and to future classes of incoming students? Or will the monthly wait return? While the Feb. 12 to 14 referendum — mandated by a 2018 revision to the UMSU Act requiring fee increases above the rate of inflation — will tell, the numbers tell a story worth crunching.
The upcoming referendum in two-week's time will see a ranked ballot with three options. Is the U-Pass to be abolished, rendering decades of work by UMSU meaningless and futile, and relegated to the annals of woeful yore?
A vote "No" would not be a vote against a fee increase, it would be a vote against the U-Pass for all students.
It would be a vote in the face of the ever-escalating climate crisis and a denial of the climate emergency that UMSU and governmental bodies around the world have declared. With the students' union backing the U-Pass and therefore advocating for it to be extended to Red River College (RRC) students as well, a vote "No" would be irresponsible.
Or is the current two-semester U-Pass with an 18 per cent cost increase — at a monthly cost of  $40.19  — preferable? Given Winnipeg Transit's budgetary constraints while trying to extend the U-Pass to members of the Red River College Students' Association — both which contribute to the necessary increase — this is a tough sell to existing U-Pass holders.
But there are reasons to seriously consider this ballot option. It is a vote for public transit in a city where single-occupancy vehicles are all too common. It is a vote for affordable transit for all of the students at Winnipeg's post-secondary institutions.
If this fee increase, which the City of Winnipeg needs to bring less expensive transit fares to more people — members of the Red River College Students' Association — allows more people to take the bus more often, then it is only for the good of the city. And that is for the good of us all.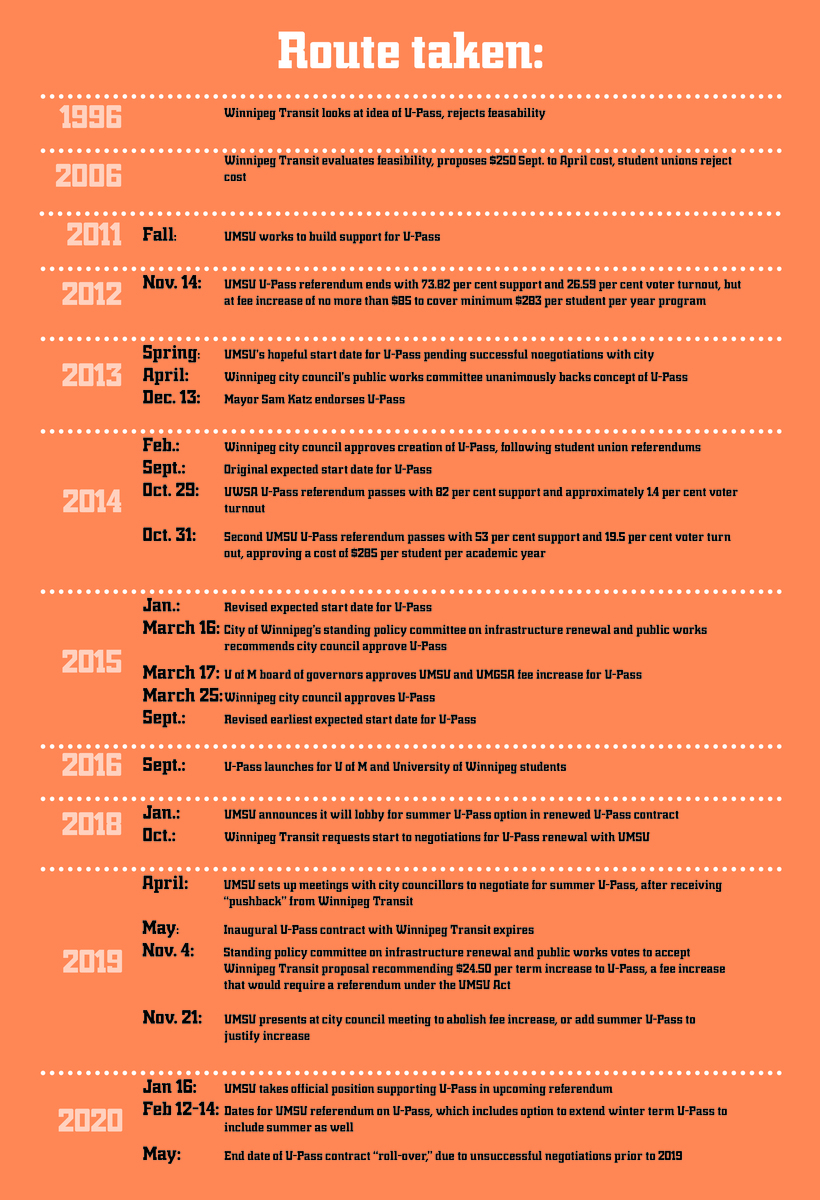 Or the third option, which UMSU has actively advocated and argued for throughout the past year. The same 18 per cent increase for fall and winter semesters, plus an additional $77.15 tacked on to winter semester fees — for a total annual cost of $398.65 — to cover a new summer U-Pass valid from May through the end of August for all students registered full-time in the winter semester.
This is the most budget-friendly option. A full 12 months of unrestricted transit travel for a 2.46 per cent reduction in the monthly cost of the U-Pass, compared to the cost of the current eight-month pass. This option equates to $40.19 per month for fall transit and $29.74 per month when the winter fee is split across eight months
Transit ridership statistics indicate that 59 per cent of U of M students are daily users — among those who ride transit more than three times per week — while 83 per cent of eligible students have made use of their U-Pass.
The difference of 24 per cent, according to UMSU president Jakob Sanderson, represents those students who have made use of the U-Pass who wouldn't otherwise buy a monthly pass.
And for students in residence, it's still a $3 cash fare to Superstore. With the U-Pass there is no need to dig up the change to avoid the long walk.
With a majority of us using transit regularly and a vast majority making use of the U-Pass, combined with added opt-out options in the new contract for those students not only outside the Perimeter Highway but who are not served by Winnipeg Transit within city limits, it would be illogical to vote otherwise than for the expansion of service that UMSU has successfully negotiated.
So vote in the U-Pass referendum. Vote for continuing the U-Pass. Vote for RRC students to gain the U-Pass. Vote for your own reduced summer transit fare.
It's a small step to tell city council, and all our fellow students city-wide, that improving transit matters. That improving accessibility to transit matters. It's a small step to not being part of a regressive university student body. A small step to maintaining services that other large universities in Canada offer, that other universities in Manitoba offer. A small step to combating climate change in our own lives every day.
A small step to being the innovators that we say we are.