The art world can often be an intimidating, unwelcoming space. Our imagined world of pure white gallery spaces and wealthy, pretentious patrons isn't exactly one that exudes warmth. 
But local art. local hearts. is taking art back to the streets — or paths — by creating a friendly, safe communal space in the great outdoors. Specifically, on a bike path near the heart of our city. 
Organized by Grace Alcaraz and textile artist Louis Stevens with support from the Winnipeg Repair Education and Cycling Hub (WRENCH)'s Wheels of Courage program, the pop-up gallery will feature displays from many local artists, including some who are exhibiting their work for the first time. 
Stevens said the decision to set up the gallery on a bike trail came from a lifelong love of exploring our city's paths and that he wanted to promote them as a concept. 
"Some of them are just in really weird spots, or there's not a lot of things around them or people just don't know about them, or don't know that you can get from place to place on these, on a few of the trails," he said. 
"So, I thought it would be a cool thing to make a destination and make somewhere people can adventure to, and try to just explore Winnipeg's trails a bit more." 
The trail where local art. local hearts. will be set up is of special importance to Stevens. Growing up, it was a direct link from his neighbourhood to the Forks and downtown. 
Aside from that, he also feels that it is a trail of exemplary quality, and that "it ended up being chosen just because it's so beautiful. It's a gravel trail, it's right behind the train tracks but it's over- looking the river." 
Once the idea had sprouted and the trail had been chosen, Stevens and Alcaraz put out an open call for art submissions and were overwhelmed by the response they received. 
At the pop-up, art will be displayed in a tent as well as in the surrounding field. 
"There's going to be some textile work, there's painting, there's drawings, there's digital work, there's going to be some photographers, some prints there," Stevens said. "It's awesome, the variety is incredible."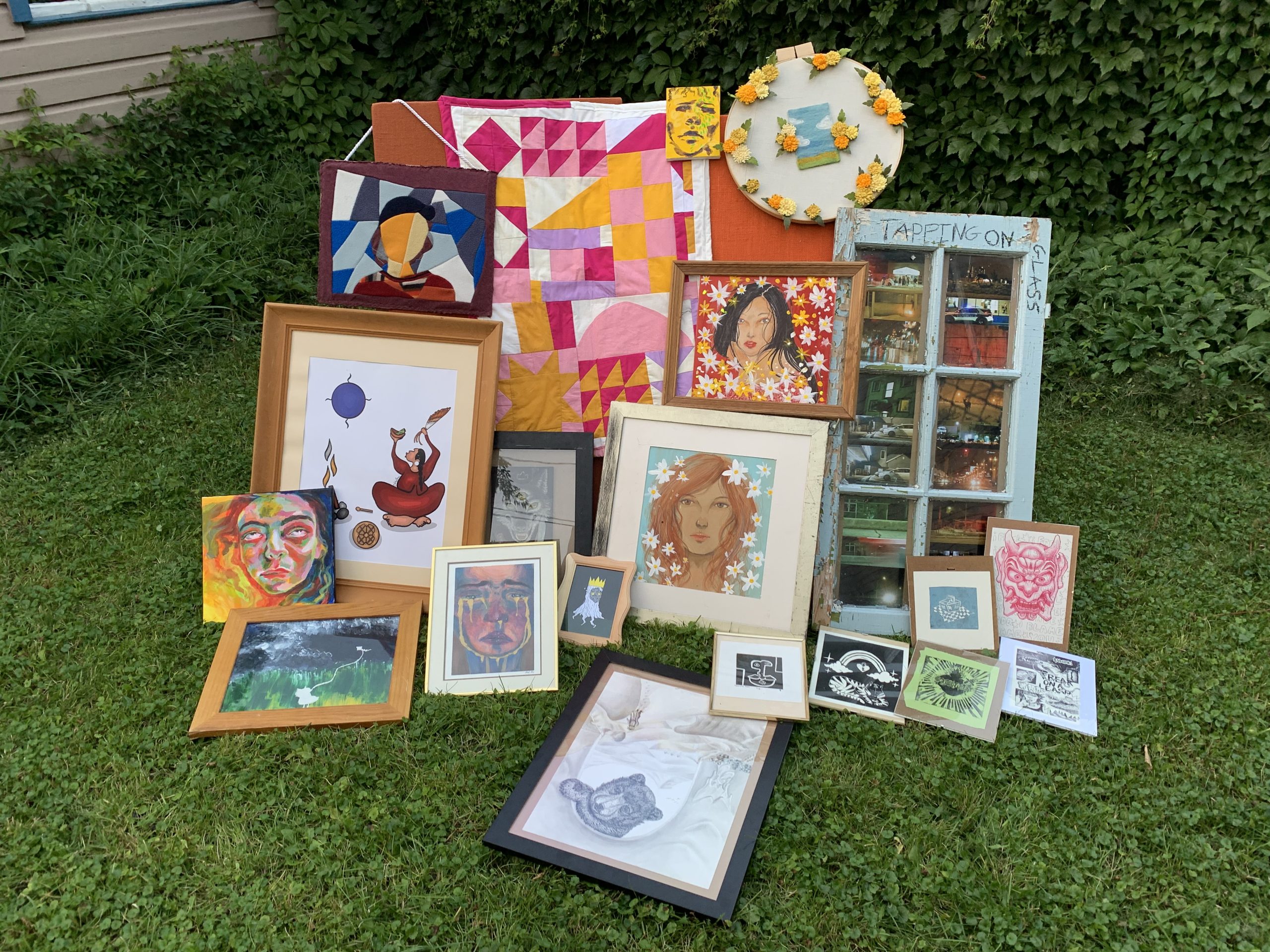 In addition to the wide assortment of visual art, the space will also feature a chill-out area with picnic blankets and an open mic area with a guitar. There will also be a second tent set up for minor bike repairs. 
"If anybody has a flat tire or needs their brakes adjusted or something like that, we'll have all the tools set up for them to keep going on their journey," he added. 
In addition to drawing attention to Winnipeg's bike trails and giving local artists an opportunity to showcase their work, Stevens hopes that the event will create a feeling of community and build connections between new artists too. 
When finalizing the name for the event, Stevens recalled Alcaraz's argument for including local hearts. 
"She said something really great," he said. "You can't have art without hearts, without love, and without the community."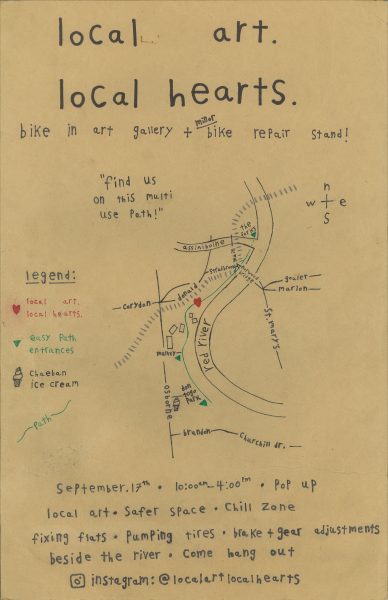 The local art. local hearts. pop-up gallery runs on Sept. 17 from 10 a.m. to 4 p.m. More information is available on their Instagram, @localartlocalhearts