This year, the Manitoban has decided to take on the daunting task of selecting a few of the many extremely talented local artists. This list is focused on bands that are making big moves for the upcoming year, whether that be touring their recently released albums, recording or releasing an album, or just starting out their musical journey in the city.
Priority was given to bands that are up and coming or newly formed. Although we highly recommend supporting all of these artists by buying their music or going for their shows, this is not a list of favorites, but rather a list of artists that caught our attention who we think will be worth watching out for this year.
Kieran West and his Buffalo Band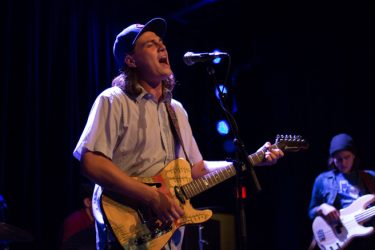 Since their last EP release in 2014, Riverwood Avenue, Kieran West and his Buffalo Band – which includes members of Somebody Language and The Way it Feels, who will also be recording music this year – have been playing their sad yet upbeat alt-country tunes as minstrels at Winnipeg Folk Festival, headlining a night at Shine On music festival, opening for artists such as the Perpetrators, and headlining shows across Manitoba. With their first tour ever currently extending westward to Calgary in the works, the Winnipeg band hopes to share their new EP, to be released this year. Crowdsourcing the cost of recording, Kieran West and his Buffalo Band is in pre-production for yet another EP, also expected to be released in 2017.
Similar bands/artists to watch out for:
Roger Roger: Twin folk-roots singer-songwriters Madeline and Lucas, are fresh off a tour and plan to head out once again in 2017. Their effortless vocal harmonies, complimentary guitar, and storytelling make for a perfect combination.
Micah Erenberg Band: A folk-rock group that had a busy 2016 with the release of Poor Mic's Toe. With recording in progress, Winnipeg music enthusiasts are keeping their eye on this group. Their upcoming live repertoire for 2017 will include new material and the give-and-take of energy at live shows keeps people coming back for more.
Kakagi: Local folk rock outfit. Check them out at the Uniter Fiver show this month before they start touring this May. Their EP is expected to be released this fall, but until then, check out their first EP that was released in November 2016.
Begonia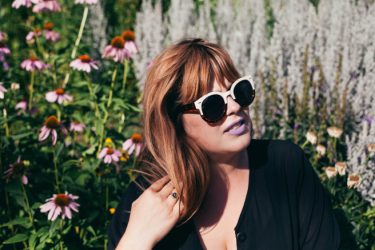 Previously a member of Juno Award-winning Chic Gamine, Alexa Dirks (now more commonly known as Begonia) made her debut in 2016 as one of the most popular local acts without even releasing a full album. She garnered fans through her local performances and live recordings in 2016. Her strong vocal range combined with infectious melodies and a hip grandmother aesthetic have drawn fans in and wowed critics. She released her single "Out of My Head" in October 2016, and her highly anticipated EP Lady in Mind will be released in March 2017 with a release party at the West End Cultural Centre. As the title of her EP suggests, Dirks explores themes of femininity, love, and loss to the tune of alternative pop peppered with gospel and blues.
Similar bands/artists to watch out for:
Rayannah: Currently touring Germany with Matt Epp for the month of January, Rayannah creates her alternative sound by looping her vocals, synths, and percussions. This French/English bilingual artist has toured coast-to-coast and overseas with her unique sound.
Lanikai: Lanikai's self-titled debut features sweet and pure yet powerful songs with unpredictable compositions that will leave you hooked.
June Killing Stones: With an anticipated EP release this year, the Winnipeg alternative-pop/rock outfit is hoping to hop on some music festivals this summer. The band released their single "Leap" in October 2016 and have been turning heads ever since.
Silence Kit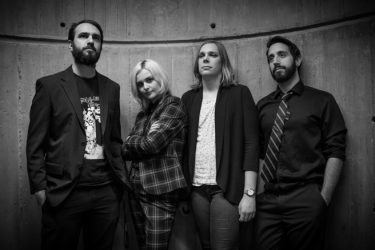 This female-led, post-punk, alt-rock, grunge-whatever group has worked hard over the course of 2016 to make 2017 a great year. Silence Kit played several shows around Winnipeg last fall and this winter, and hopes to maintain an equally busy performance schedule this year. They rang in the new year performing at The Cavern to a packed house with fellow rockers Solhounds and Madeira. The Winnipeg band was recently featured at Manitoba Music's New Music Night alongside Kakagi and Trampoline.
Silence Kit's 2016 was largely spent creating and perfecting new songs as the group solidified. They released demos Verbs and Pipe Dream last summer and are on course to release an EP in April. Silence Kit's high energy rock-n-roll performing style has brought audience members back to see them perform repeatedly but the band is sure to draw even larger crowds in 2017.
Similar bands/artists to watch out for:
Solhounds: This female-led desert doom rock band spent last year touring and performing sold out shows. They'll hit the studios this winter to start recording again but be on the look out for their upcoming live performances.
Tusk: Formed in the spring of 2016, Tusk is being featured in the Uniter Fiver show. Their debut EP is set to be released in March 2017.
Mulvey Street Maniacs: With an EP on the way and a full album in the works, this bluesy rock trio with a country twang will perform their debut show at Festival du Voyageur this February and will continue to hit stages at shows and in the summer.
Sam Singer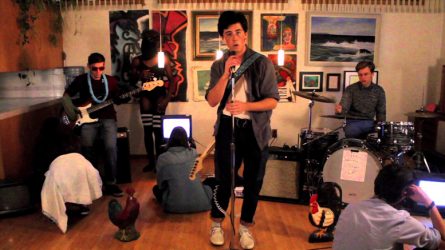 The youngest band on our list, Sam Singer is definitely one to watch out for in years to come. With the release of their full-length album The Sammy Singer LP in November 2015, the young musicians sing of teenage heartbreak and misery and have played at Big Fun Festival, the Goodwill Social Club, and Real Love Thursdays at the Handsome Daughter, as well as many others.
Their sound is evolving and this is evident in songs like "Never Winter" and "The Hipper the Girl the Harder the Fall." Their live shows are fascinating partly due to their youth and the raw and rich timbre of Singer's voice.
Similar bands/artists to watch out for:
Iansucks:has gotten a lot of media attention this past year, all for good reason. The successful release of their album Don't Give into the Bad Feeling has further established them in the Winnipeg music scene and sent them on an eastern Canadian tour.
JayWood: JayWood is planning on releasing a new album in 2017, and playing more around the city. They hope to bring their groovy, dreamy, indie pop sound to other Canadian cities this year. JayWood's EP, Some Days, is now available on Bandcamp.
Trampoline: Trampoline will be kicking off their mini-tour at The Cavern this February with a more extensive tour planned for September. This self proclaimed "anti-rock band" will be sharing songs off their recently released EP, Sometimes a Song is Just a Cigar at their upcoming mini tour.
With so many local bands to watch out for this year, Winnipeg music enthusiasts can expect a lot of good music in 2017. Do your part by supporting local music – go see your favorite bands perform and buy their music.