Accessing resources for mental health in the city can be a daunting task, especially if you're new to the whole "getting help" game. The University of Manitoba has many resources available to you, from counselling, to safe spaces to relax. Here's the rundown of a few:
Peers: Students Helping Students
If you're more likely to confide in a friend than seek professional help, Peers is the resource for you. Peers volunteers are U of M students who have completed at least 18 credit hours. They are trained on topics such as active listening and empathic communication, crisis intervention, and student-related issues.
Peers are there to listen when you have a personal problem, or to provide options for other resources on campus. All services provided by Peers are confidential and free.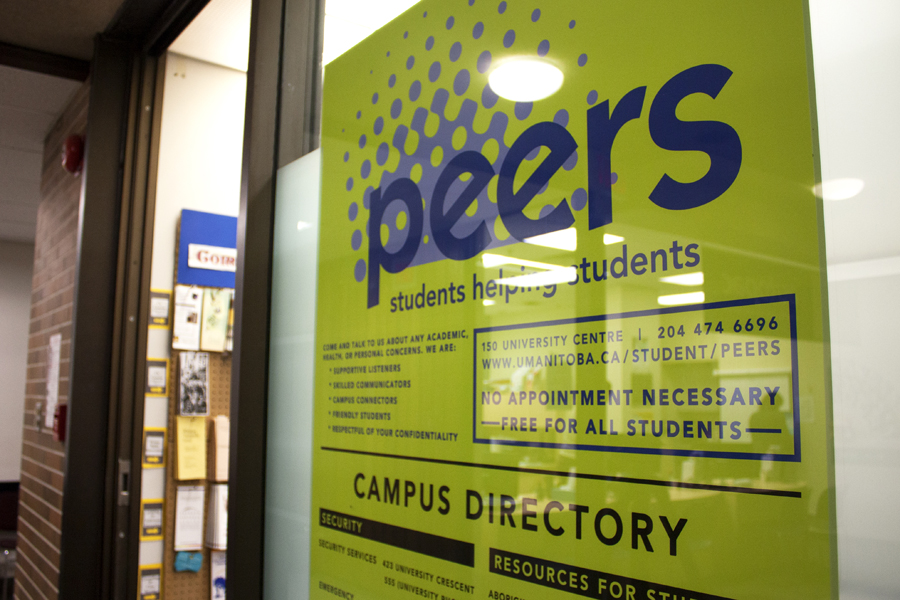 Student Counselling Centre
This centre offers a variety of resources to students at the U of M, including free personal counselling. To access counselling, visit 474 University Centre in person and request an intake appointment for that day. Intake appointments are first-come first-serve. Crisis counselling is also available.
A variety of group workshops are held, such as: Managing Your Mood, Mindful De-Stressing, Managing Exam Stress, and Wednesday Women's Circle. Visit the Student Counselling Centre's website for a list of online and print self-help resources..
Psychological Service Centre
The Psychological Service Centre is located in 161 Dafoe (right by the Greenhouse Café) and acts as training for graduate students in clinical psychology. Free and confidential therapy and assessment services are available, but there are no crisis services. You can access the centre from September to April, and you do not need to be a U of M student.
Student Accessibility Services (SAS)
There are numerous resources offered to students experiencing mental illness (and a range of other disabilities) through SAS at 520 University Centre. Some include: a computer/study room, computerized note-takers, and the academic assistant or attendant program. Student Accessibility Services also offers a program called ACT (Acceptance and Commitment Therapy) for Anxiety. The program is free to those registered with SAS and focuses on mindfulness and acceptance strategies.
Rainbow Pride Mosaic (RPM)
Though not directly mental health-focused, RPM offers a safe space for LGBTTQ* and straight ally individuals. A variety of programming is held throughout the year, including LGBTTQ* Awareness Week and LGBTTQ* ally training. Visit 113 Helen Glass for peer support and community resource referrals.
Womyn's Centre
Like RPM, the Womyn's Centre offers a safe space on campus for women to connect, have fun, or just chill out. Visit the artwork-filled and serene quiet room for a personal talk or some alone time, or hang out on the futons to talk feminism and make new friends. The resource library can direct you to other services, and there are free menstrual products, pregnancy tests, condoms, and lube. The Womyn's Centre is located at 190 Helen Glass.