In my quest for scary I visited a store that elevates hauntings and transformations to a professional level. Though open year-round for the party needs of any season, Gags Unlimited is a superb source for scarifying when the spookiest time of year looms implacably on the calendar. The business began with the selling of balloons and now boasts a trailer, basement, storefront, and second floor full of merchandise cycling into the hands of Winnipeg's best costumed and dedicated party enthusiasts.
I had visited in the past, to grab balloons for birthdays, and I'd gazed upon some of the wonders the shop had to offer. This was my first trip inside the store in October and the macabre material was waxing.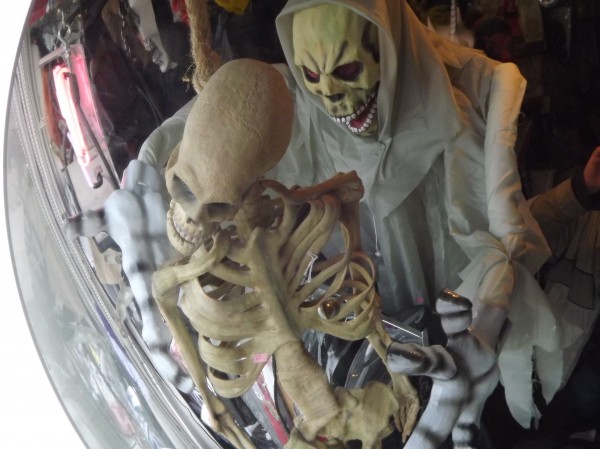 I meandered over a zombie baby and was prodded by a unicorn; ghostly wisps brushed my shoulders. Masks were strung across most of the available ceiling space. Peering, leering, jeering faces angled disconcerting gazes to all corners.
The place was packed for the entirety of the visit: staff hurriedly and efficiently moved between customers, dealt with deliveries, and peopled the tills. My guide, Katrina Murray, made several apologies, as the demands of the business drew her attention. There was, of course, no need for such polite amends; I suffered from no loss of material to process. I was fascinated by the variety of viscera, guises, and bones. The almost haphazard display of merchandise enhanced the chaotic excitement, the fright factor.
"Step back."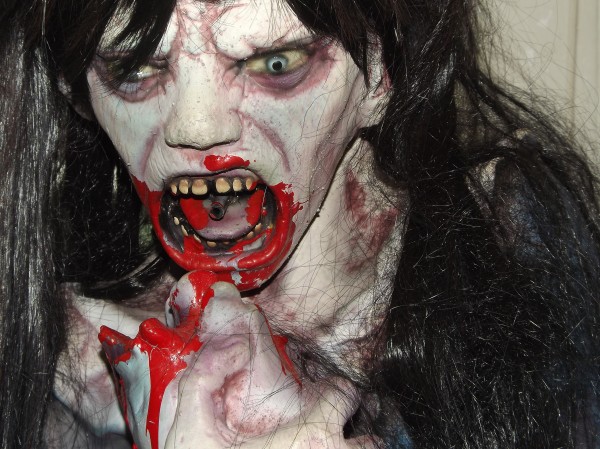 I obeyed. One of the displays spat at me, and Murray explained that the water could as easily have been blood. Reassuring.
I got a glimpse of an eerie basement: innumerable mannequins were strewn about and tropical trees offset cardboard boxes along the walls. More storage space was pointed out to me: the upper floor, the trailer in the back. Inventory must be a nightmare, indicative of the guts required to run such a shop.
Owner Kerry Hogan has brought Gags Unlimited to a boil this Halloween season. From inexpensive props and getups to $1,500 costumes (Boba Fett of Star Wars was recently sold, the Red Knight of Todd and the Book of Pure Evil currently stands guard), Gags Unlimited has been bringing a blast to Winnipeg parties and holidays for over 30 years.