"I'm in a van full of sweaty degenerates about 30 miles outside of St. Louis, Missouri," remarks Dave Landreth in an interview with the Manitoban. Those sweaty degenerates he's referring to: none other than Winnipeg indie-pop outfit Imaginary Cities.
Dave slaps bass in the nascent local act the Bros. Landreth, with his brother Joey Landreth on guitar and lead vocals and their good friend Ryan Voth on drums.
For the past few years the Bros. have found themselves at times continents apart: Joey touring or recording with the likes of Codie Prevost, Steve Bell, and now Doc Walker, while Dave and Ryan have been on the road with Romi Mayes and Imaginary Cities, among others.
Hot off their debut EP Works in Progress—a highly polished three-track album of roots, alt-country, and pop goodness available for free download—members of the Bros. are currently finishing up tours with other bands – Joey travelling with Doc Walker, Dave and Ryan with Imaginary Cities.
Thanks in part to the EP and gigging around town through the winter, in February of this year the boys managed to book a slot performing at the Festival du Voyageur and were featured on CBC radio's Scene with Ismaila Alfa.
Though they stand to garner even more attention in the months to come, forming the tripartite brotherly band wasn't the most obvious move creatively for the Landreths and Voth. Having spent the better part of their 20s backing other musicians, making the Bros. Landreth "didn't really dawn on us, which in retrospect seems kind of silly because it seems like such a natural progression now," says Dave.
"I had just assumed that my career would go the route of playing other people's tunes."
The band had its genesis one morose morn' in 2012.
"It was the morning of my 25th birthday and I was doing what every 25-year-old man maybe does, which is lament the fact that you're no longer a child," notes Joey.
"I was sitting there going, 'what the fuck am I doing with my life!'"
Quarter-life crisis now behind him, Joey mentions that shortly after the Bros. came together there was a moment of collective reckoning and questioning "why the fuck" they didn't get started on this project years ago.
"I was talking with our dad [ . . . ] and he said, 'you weren't ready when you were 20 [ . . . ] didn't know what you wanted, you had to learn some shit about being on the road and about being a musician and about yourself. You learn a lot about who you are in that span of time.'"
The Landreths were reared on blues, jazz, and rock – music their father had them play by his side in dive bars as young teenagers. They eventually took stabs at forming their own respective bands.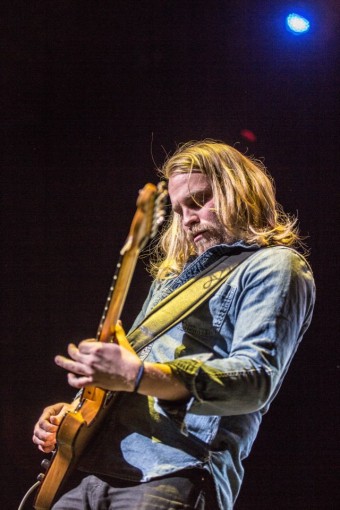 "I've always tried to have little bands start up and I never really took them very seriously; it was always just for fun," explains Joey.
Winnipeg pub-goers might remember the likes of the now-defunct Groovy Moustache or Little Boy Boom – the latter a band once fronted by Alexa Dirks (Chic Gamine, the New Lightweights).
Though minor elements of those blues and soul influences still show through in the vocals, their experiences as sidemen these past few years have taken the Bros. in a decidedly more alt-country direction.
"This album really wound up writing itself [ . . . ] We all pooled our musical sensibilities and just tried to give the songs what we felt they needed to really come across," says Dave.
They worked on pre-production for a few months before heading to the studio and carving out arrangements.
"[The songs] really developed when we were adding overdubs after the fact. Little guitar hooks here, a vocal part there, two parts of cumin and a pinch of basil… BOOM! You got a song."
Playing with Codie Prevost, Doc Walker, Steve Bell, Romi Mayes, and Imaginary Cities over the past few years, the Bros. have gained an understanding of the creative process and the state of the industry that simply forming their band five years earlier may not have afforded them.
For instance, in the midst of writing in December of 2012, Joey took to the Internet and social media at local musician Steve Bell's behest. In an understated plea to friends, family, and fans, on Dec. 11 he created a Kapipal account (a personal crowdfunding platform) where he made his case for why he and a 1930s Dobro guitar were destined to be together. Droves of fans came through and in less than 48 hours, Joey had raised the $2,100 to buy the vintage round-neck resonator.
"It was pretty incredible. There was definitely a piece of me that thought, 'ah fuck, I shouldn't be doing this,' because it feels a little panhandle-y," remarks Joey.
"At the same time I was encouraged by Steve Bell who said it gives the people who love what you do a chance to give back to you, because you may not see it but your music does something for somebody [ . . . ] which is kind of a concept I had never really explored before."
Edifying experiences like this have led Joey and company to approach the changing world of professional musicianship in a different light. The short time spent touring with Doc Walker has lead Joey to form a more nuanced understanding of what the limits truly are (or are not) to making music with commercial appeal.
"There's a stigma that comes with playing commercial music that people always try to associate with an emotional disconnect," he notes. "Playing with Doc Walker [ . . . ] these guys are a critically acclaimed act, but they are incredibly emotionally invested in their music."
"That said, playing with Doc especially has shown me that you can still write a song that could maybe get radio play, but it can still come from an honest [place]. There's a lot of shit out there [about] pickup trucks and shotguns and tailgate parties. To me those songs are fun but they don't really mean anything."
With their nine-song full-length recorded and slated to drop in September of 2013, the Bros. plans currently consist of playing a steady rotation of Winnipeg venues into the summer, at which point Voth will be appearing in Rainbow Stage's production of Buddy: The Buddy Holly Story as Buddy Holly's drummer.
"That's a real surprise – to myself and everybody," says Voth. "The singing I'm not so worried about… but fuck it – why not!"
Featured photo by Bob Tinker – from left: Ryan Voth (drums, vocals), Dave Landreth (bass, vocals), and Joey Landreth (guitar, lead vocals).
Catch the Bros Landreth in April
April 1st: The Cavern
April 3rd: New Music Night at Ozzies
April 4th: Times Change(d) w/ Haley Carr
April 5th: In Ferno's on Academy
April 10th: Bistro 7 1/4
April 12th: Bijou Steakhouse in Kenora, ON
April 13th: Bijou Steakhouse in Kenora, ON
April 15th: The Cavern
April 19th: The Pyramid
April 25th: In Ferno's
April 29th: The Cavern