Last weekend, Hamas — a militant group and political party that governs the Gaza Strip — launched surprise attacks on Israel, bulldozing sections of fence separating them and targeting Israeli towns and military bases. Hamas fighters took close to 200 hostages and killed hundreds of civilians. 
Israel responded by turning off power in Gaza, blockading food, water and fuel from entering the region and bombing the 363 square kilometre strip of land that houses over 2 million Palestinians. 
As of Oct. 16, it is estimated that over 2,800 Palestinians in Gaza and at least 1,400 Israelis have been killed. 
Students for Justice in Palestine (SJP), a student group dedicated to spreading awareness about Palestinian issues, held a memorial on Friday for Palestinians killed in the ongoing conflict between Israel and Hamas.
Fairuz Dlishi, a student who lived in occupied Palestinian territory as a child, helps SJP plan events and assists with the group's Instagram account. She said the past week of events in Israel and Gaza has been "pretty emotional," and that she fears for her family's safety.
A former chief of Hamas called for a day of protests in solidarity with Palestinians on Friday, Oct. 13 —the day of the SJP memorial — and for neighboring countries to join the fight against Israel.
Some news outlets reported this as a call for a "day of jihad," prompting police in some cities to increase security.
Dlishi clarified that the timing of SJP's memorial with this call to action was a coincidence.
At the memorial, one student named Saleh Saaydeh was asked by a police officer not to display the Palestinian flag. Saaydeh said he was told SJP had agreed not to display flags at the event and he stored the flags in the officer's patrol car.
Later, an officer told several students there had been a misunderstanding and that they could have their flags back, but said that due to "political sensitivities," he would appreciate it if they kept their Palestinian flags "understated."
Saaydeh said the experience was upsetting and frustrating. He felt like he couldn't "carry [his] own flag," he said. 
"That's just very disappointing," he said. "Imagine you can't carry your own flag. That represents me, represents everything I stand for."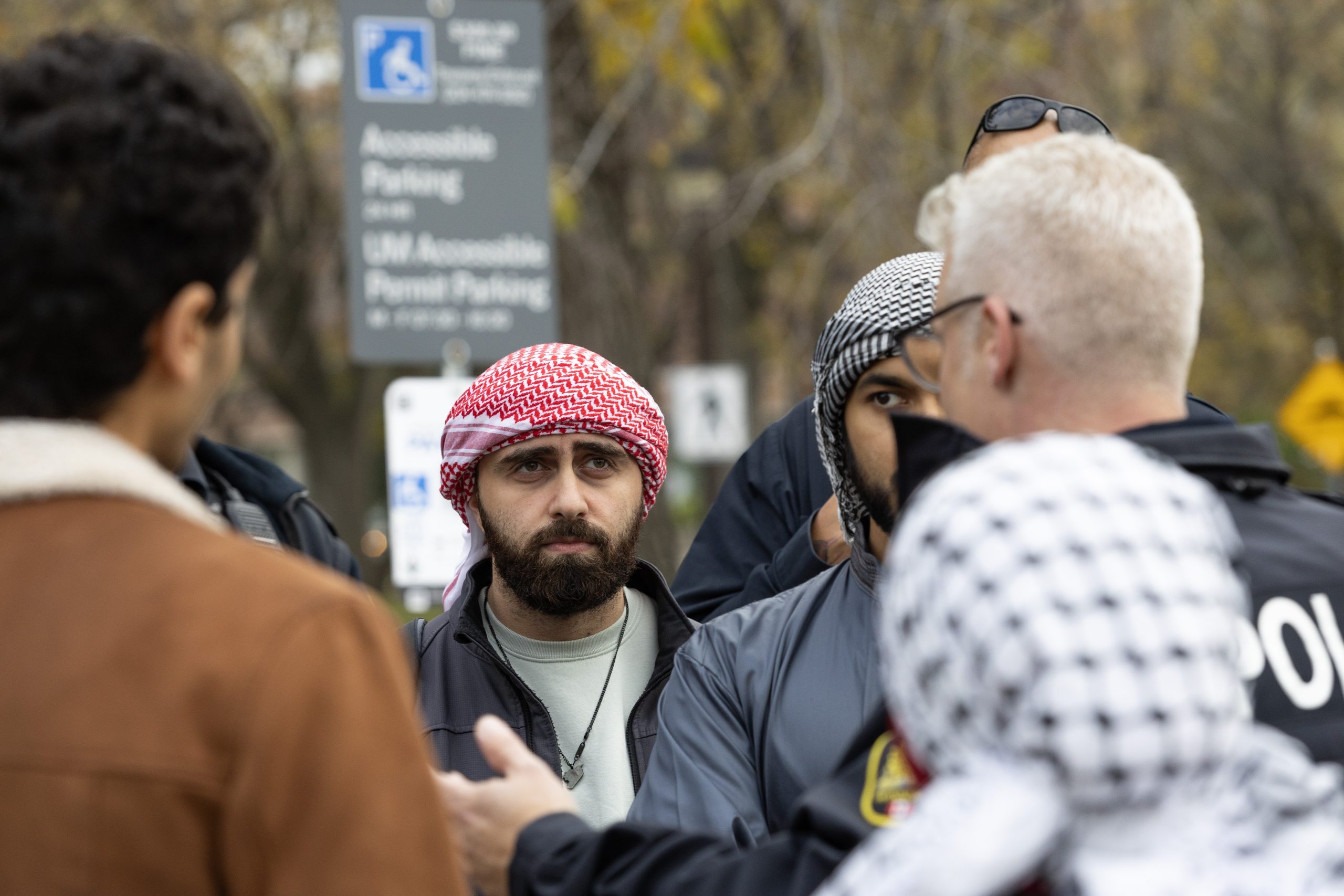 Winnipeg Police Service could not be reached for comment in time for publication, but U of M spokesperson Eleanor Coopsammy said in an email that groups "have the right to freedom of expression and to gather peacefully." 
"UM can't speak to that incident, but we know security services have been very engaged with organizers from a variety of student groups across the campus and will continue to work with them to address security and safety concerns."
Jana Alfar, a Palestinian student, said the reporting about a "day of jihad" made her "genuinely terrified to even walk to the bus stop."
Dozens gathered for the SJP memorial, many wearing the keffiyeh, a traditional Palestinian scarf that has become a symbol of resistance.
Opening remarks were followed by a Qur'an reading, speeches from Palestinian students and a moment of silence for those lost.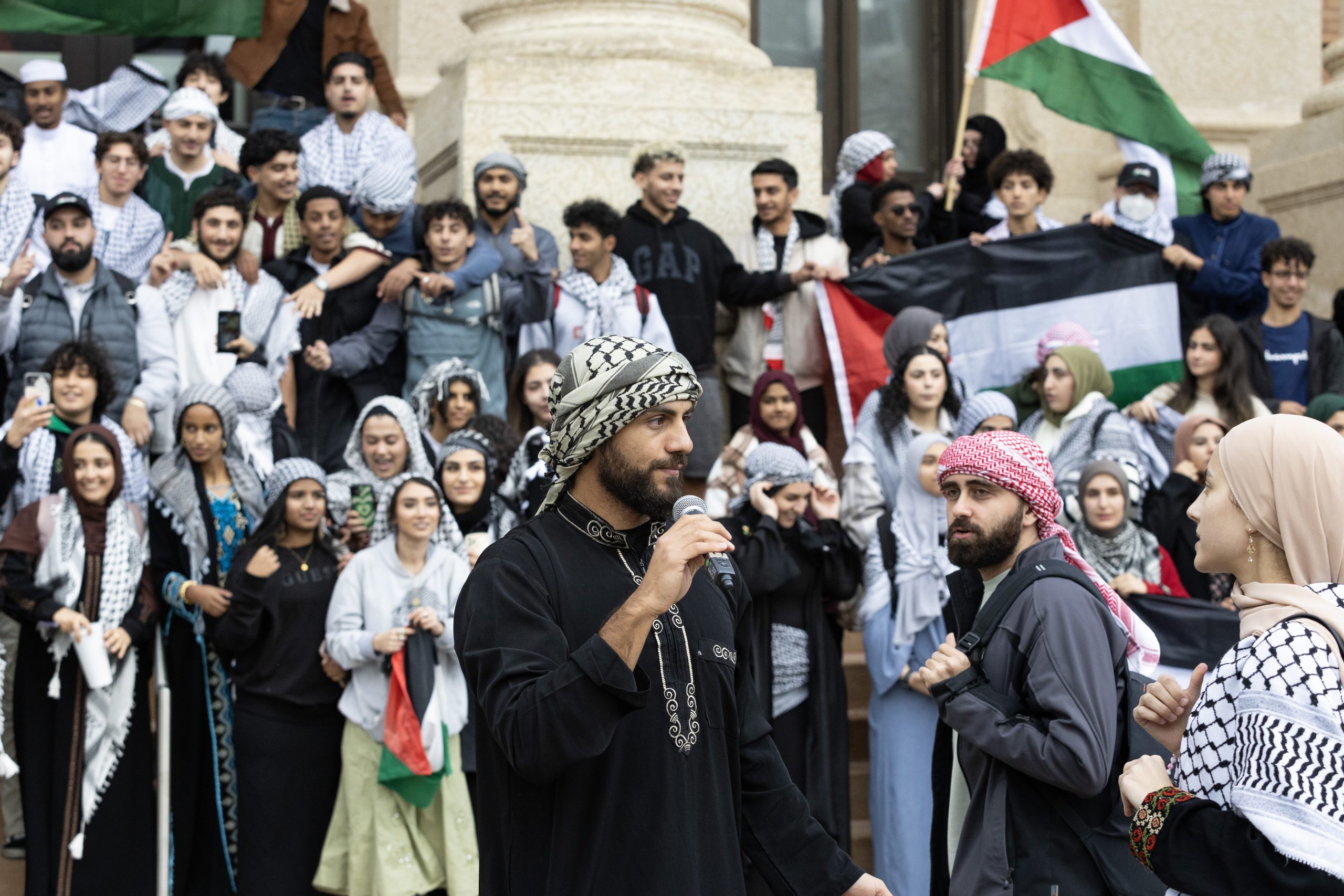 One of these students, Haneen, referred to herself as a "1948 Palestinian." Her family's home was demolished in 1948. That year, approximately 700,000 Palestinians were forcibly displaced during the Arab-Israeli War.
Haneen said her grandmother's family "had to run for their lives with only the clothes on their back." Although the United Nations calls for a two-state solution that would ensure the sovereignty of both Israel and the State of Palestine, Israel has continued to construct illegal settlements on occupied Palestinian territory, forcing more out of their homes.
Haneen went on to describe conditions for the over 2 million people — nearly half of whom are under 18 years old — in "the open air prison of Gaza," echoing a phrase that human rights organizations and political leaders — including former United Kingdom prime minister David Cameron — have used to describe Gaza. 
Roleen, another student speaker, described living in occupied Palestinian territory for seven years as "the most difficult experience" she has ever had.
"It was traumatizing and I have PTSD just from listening to the airplanes going in the sky," Roleen said, referring to the surveillance and attacks from drones that Palestinians in Gaza face.
"No one really understands unless you've lived through it."