Even the passably perceptive pupil would have noticed a peculiar pattern on campus walls last week.
Multiple posters depicting presidential incumbent Al Turnbull (Refresh) were removed as of Wednesday morning, only to be replaced later that day. The following morning, again, many of Turnbull's posters were gone.
Some of the posters appeared to have been removed carefully, leaving conspicuous holes in Refresh poster layouts and surrounding materials unruffled.
Others seemed to have been touched by a malicious hand – nearby Refresh posters incurred collateral damage, or shreds of Turnbull's papers were left hanging on strips of tape.
The acts of campaign vandalism prompted public responses from Refresh, as well as Team Fusion. Both denounced the teardowns with an identical statement.
"We do not condone or support these actions [ . . . ] to our followers, friends, volunteers and supporters, we implore you to not be a part of these despicable actions," announced the statement on both slates' Facebook pages.
"As a slate, if someone is caught destroying or defacing the campaign material of either of our opponents this can be viewed as an act of support for us," it continued.
Some discussion of the defacements broke out via social media during the week, leading Fusion vice-president internal candidate Victoria Watkins to file a related complaint with chief returning officer (CRO) Jacqueline Keena.
The complaint, filed last Friday against Turnbull, alleged that he had reposted a statement made by someone else on Twitter suggesting, "'slates' were responsible for the vandalism of his campaign material." Keena dismissed the complaint, ruling that it was invalid because "no slanderous or libelous statements were promoted."
Speaking with the Manitoban late last week, Turnbull acknowledged that campus security services had been made privy to the poster vandalism, and had identified one individual of interest via the school's hallway camera system.
That person was scheduled to meet with Keena last Friday.
Turnbull said he was not pushing for any kind of punishment. He also said he does not intend to file a complaint with the CRO.
In a potentially related turn of events, Turnbull told the Manitoban that while he was walking through the tunnels connecting the science complex to the Tier and University College buildings at 11 p.m. last Wednesday he encountered a group of five people in balaclavas. Security Services was alerted.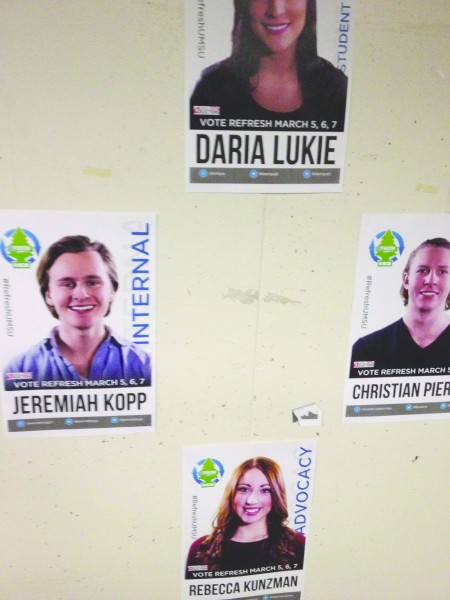 "By 1 a.m., posters near University Centre (UC) were torn down," said Turnbull.
The extent of the poster damage remains unclear.
Early in the week, Keena reported that approximately 30 posters had been torn down. The Manitoban confirmed 16 in the Tier-science complex buildings and tunnels as well as in the tunnels heading from the science complex towards UC, while Keena said that approximately 90 posters had been reprinted as of press time.
Refresh has not been forced to pay for the replacement posters out of their campaign budget.
John Danakas, director of marketing communications at the U of M, confirmed that Security Services is investigating the incidents and is reviewing CCTV evidence.
As of press time, no further acts of vandalism against Turnbull's campaign materials had been reported.