RAW:almond restaurant is warm not only in temperature, but also in spirit. Despite dropping mercury, Winnipeggers are cheery as they sit at the communal wooden table for a weekend brunch on the frozen Red River and Assiniboine River junction.
RAW:almond is a partnership between chef Mandel Hitzer of deer + almond and Joe Kalturnyk of RAW gallery. For three weeks only (Jan. 24 to Feb. 13), diners pay $100 for a five-course meal. Every night features collaboration between Hitzer and another local chef.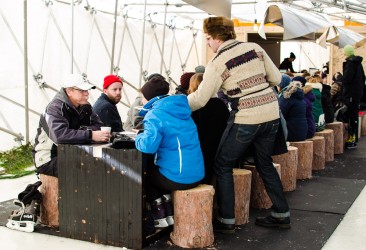 Talia Syrie of Tansi at Neechi Commons holds the weekend brunch.
Syrie is hard at work dishing up pancakes, Red River Cereal, breakfast corn dogs, and bannock—using locally sourced ingredients—to bundled-up folks in skates and Sorels.
"I love how people come here and have no expectations. They're up for anything, and they're hilarious. People are so funny. They're so gracious, so kind, and so patient," says Syrie.
The $22 brunch is served on a first-come, first-serve basis, with four seatings offered over the course of the day. The pop-up restaurant has clearly grown in popularity, as last year only two seatings were necessary to meet demand.
Syrie is modest, but her creative mind is evident in her brunch inventions. Keeping tradition alive, she serves up Red River Cereal with a twist.
"We make this spicy applesauce. We cook down all of the [apples], throw a whole bunch of butter and cream in it, and add wild blueberries. It's almost like a savoury applesauce."
The "breakfast buddy" is another creation of Syrie's.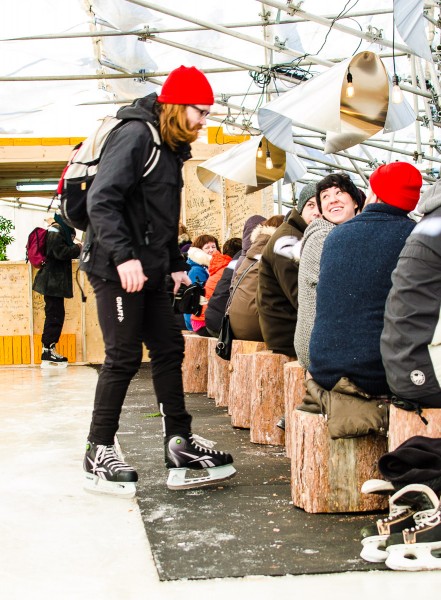 "We take bannock and we stuff them full of scrambled eggs and bacon. Then we bake them, and then deep fry them [ . . . ] We try to deep fry something in every course."
Chef Hitzer of deer + almond is taking this pop-up innovation one step further with the Great Canadian Sleepout. In a tent just outside the restaurant, Hitzer is sleeping on the ice to fundraise for the Boys and Girls Clubs of Winnipeg, Fort Whyte Alive, and the Resource Centre for Manitobans who are Deaf-Blind.
Innovation and donation for a cause, coupled with local talent, makes this restaurant truly unforgettable.
Donate to the Great Canadian Sleepout at The Forks Market, RAW:almond, and via PayPal at theforks.com. #GreatCanadianSleepout