Erika Dueck and Hillary Smith, recent graduates of the University of Manitoba's school of art program, won prizes from BMO Financial Group's 2013 1st Art! Invitational Student Art Competition. A carefully selected committee of artists and employees chose the national and regional winners from post-secondary institutions across Canada. Dueck and Smith received prizes of $10,000 and $5,000, respectively.
The school of art is celebrating its 100th anniversary this year, and is Western Canada's oldest established art program. The U of M says the program is "committed to advancing excellence in creativity, research, critical thinking, and knowledge."
Dueck, winner of the national prize, submitted work titled "The Ephemeral Mind." Her thought-provoking piece deals with the orderly chaos of the human mind.
"The mind is both organized and disorderly, linking thoughts and experiences unconnected within reality. It is unstable; memories are misplaced, sometimes forgotten, trapped in storage next to the illuminated, while others are never processed. This temporal structure is built up and destroyed within a lifetime, unique and never wholly accessible," said Dueck in a statement to the U of M.
Dueck's inspiration stemmed from her childhood understanding of how memories are processed. She viewed memories as files in a room full of filing cabinets, with each file used often or forgotten about. The frequency with which each file was visited determined the clarity of the memory. To prevent memory loss of her most cherished memories, she would engage in "memory cleaning" and revisit certain "files."
"This piece is meant to be an impetus for viewers to further meditate and consider their minds and memories in relation to their understandings, their motivations, their fears [ . . . ] and question what they have remembered and forgotten, neglected, tried to forget, and what has become overwhelming, obsessive, and perhaps even relevant," said Dueck.
Hillary Smith, winner of the regional $5,000 prize, submitted a piece called "Phrenological Petrifactions." Her artwork deals with the disconnection between the patient and their illness within the medical model, and aims to give artistic meaning to the human organ systems.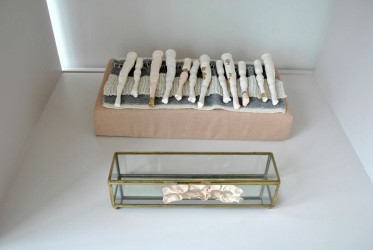 "I give our bones, organs, and entrails a voice and through my work they may tell us their otherwise silent stories. The objects I create imitate the human anatomy but have been dehumanized and embellished into beautifully delicate and petrified remains. They are the manifestations of perhaps the souls living within our bones and organs, the parts that are unseen when dissected," said Smith.
In an interview with the Manitoban, Smith described how she began her work with a curiosity of the unknown and an interest in existentialism. According to Smith, without extensive education regarding anatomy and illnesses, the average human mind is unable to fully grasp the complex systems of the human body. Her focus was to present science and medicine in a way that is understandable to viewers.
Throughout her degree, Smith's work focused on impermanence and fragility, brought on by her experience with ceramics. She admitted that she experienced some odd tangents with her work, such as the time she worked in a deli and used chicken and ham as material for her art, but felt her art matured as she matured as a person.
Smith used the award money to pay off some debt and to pay for her residency at The Banff Centre. She plans to work towards a master's degree at an international university.
Smith advocated the art program as a great community to be a part of since the students are simultaneously supportive and critical – an important component of pushing an artist to their full potential.
In regards to her piece, Smith hopes her work makes her audience question the realms of science and medicine and their relation to art. She wishes to evoke a sense of wonder and curiosity into one's own interior.
"I hope my audience gains a notion of the display and how they pertain to ourselves as well as what happens when our illnesses or weaknesses are found and displayed to us in ways we can understand," said Smith.