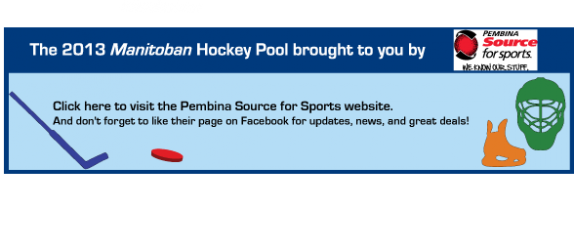 We're more than halfway through the NHL season (and into the last month of the hockey pool) and things are certainly heating up in both the league and pool standings.
I was interested in seeing whether or not the teams currently in a playoff position were also averaging the most points in the hockey pool. Not including teams with only one player selected, the following teams are the best-averaging point-getters in the Manitoban pool:
1. Pittsburgh Penguins (avg. 36 points per player)
With a total of six players represented in the pool, the Penguins were an extremely safe pick in any box of the pool, and an annual contender for the Stanley Cup. There's really no weak link amongst the Penguins, as Kris Letang is the only Penguin player who hasn't reached 30 points in the pool – yet.
2. Carolina Hurricanes (avg. 32.33 points per player)
Of the three Hurricane players in the Manitoban pool, two are the Staal brothers: Eric and Jordan. Eric, the team captain, is one of the pool leaders with 44 points, and he's certainly helping to boost the team average. And yet, the Hurricanes are currently leading the Southeast Division with a four-point lead on the Winnipeg Jets.
3. Montreal Canadiens (avg. 30 points per player)
Montreal currently sits atop the Eastern Conference with a record of 16-5-4. Two of the three Montreal players in the pool—Max Pacioretty and Carey Price—are big reasons for the Canadiens' success. Pacioretty leads the team with 21 points, while Price has picked up 13 wins (including two shutouts) in 20 starts.
Montreal, Pittsburgh, and Carolina currently make up the three Eastern Conference division leaders.
Surprisingly absent amongst the top ten point-getting teams in the hockey pool are any of the division leaders in the Western Conference.
The Anaheim Ducks have scored 77 goals so far this season, but are the second-least penalized team in the NHL. That has helped on the ice, but hasn't worked out well for those who picked Ducks for their pool team.
In the case of Chicago, had we known that they would go on such an incredible run perhaps we would have included goalie Corey Crawford. His stats would have been among the goaltender leaders in the pool. Meanwhile, his teammate Patrick Kane (12 G, 15 A) would have been a great pick – if penalty minutes weren't a factor.
In the matter of Vancouver, no one in the pool seemed to have much confidence in the Canucks. Of the four players included on the entry form, only two were selected by a total of three pool entrants. It also didn't help that there was the mother of all goalie controversies surrounding the team at the start of the season.
Don't forget to check out the standings if you're apart of the hockey pool at HockeyDraft.ca.